Overnight Trips
National Destinations
Saturday, May 21: Puffins, Warblers, and Lobster Boats - The Enchanting Coast of Maine, with Gabriel Willow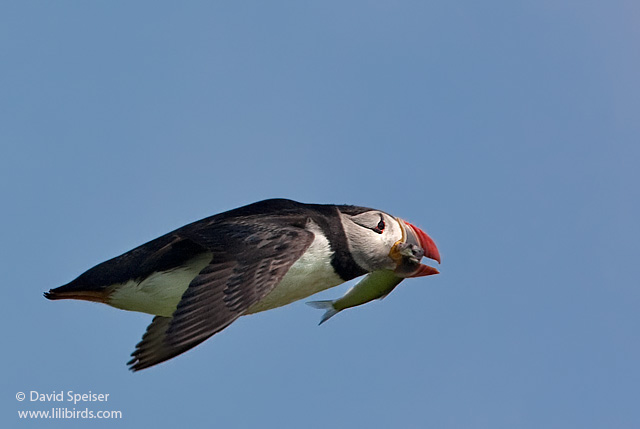 Saturday, May 21-Saturday, May 28
Guide: Gabriel Willow
Come along with NYC Audubon and explore Maine's "Country of the Pointed Firs": land of lighthouses, quaint villages, and lobster pounds... all nestled in a setting of primeval pine forests, bogs, and bucolic islands. Home to some of the East's last true wilderness, Maine hosts populations of Atlantic puffin, bear, moose, shorebirds, and dozens of warbler species. This land of forests and rocky coast has been an inspiration to artists and naturalists for generations.
We'll begin our exploration by spending three days on the mainland coast, visiting the salt marshes and beaches to the south before heading to the beautiful fishing village of Camden. From there we will explore nearby hills, meadows, and marshes in search of elusive rails, upland sandpiper and Nelson's and vesper sparrow. Following our exploration of the mainland, we'll spend four days on enchanting Monhegan Island—a scene of inspiration for artists including Edward Hopper and the Wyeth family. Birders flock here as well: Seeing 30 warbler species in one day is not uncommon, and many rarities appear here. We will stay at the historic Monhegan House Inn, where meals will include a lobster dinner. Finally, we'll travel to a puffin nesting colony. While on the water, we'll keep our eyes open for whales and porpoises. $1,950 ($595 single supplement)
(Transportation to/from Maine not included)
Click here for the complete itinerary
Friday, July 1: Boreal Birding in the Adirondacks, with Gabriel Willow
Friday, July 1 - Monday, July 4
Guide: Gabriel Willow
This trip is sold out.
Montauk Spring Weekend

Friday, June 3-Sunday, June 5
Guides: Mike Bottini, Mickey Cohen, Don Riepe
With American Littoral Society
Join us for our 20th year at the luxurious Montauk Manor and enjoy indoor/outdoor heated pools, jacuzzi, and spacious suites. Registration price includes five meals, five guided field trips, two evening slide programs, an evening star watch and free pickup at the LIRR station in Montauk. For information and reservations, call Don Riepe at (718) 474-0896 or e-mail This email address is being protected from spambots. You need JavaScript enabled to view it. . $395 ($130 single supplement)
BASHAKILL, SHAWANGUNK NWR, AND DOODLETOWN, NY
Hooded warbler, by David Speiser

Saturday, June 11, 9am–Sunday, June 12, 6pm
Guide: Joe Giunta, Happy Warblers LLC


This trip is sold out.
BASHAKILL, NEVERSINK, AND STERLING FOREST, NY

Saturday, June 18, 9am–Sunday, June 19, 6pm
Guide: Joe Giunta, Happy Warblers LLC


This trip is sold out.
Cape Ann Whale Watch Weekend

Thursday, August 11-Sunday, August 14
Guide: Don Riepe
With American Littoral Society
Visit scenic Gloucester, Massachusetts and enjoy a whale watching boat tour, an evening cruise on the Essex River, easy canoeing on the quiet Ipswich River, a guided hike along a scenic shoreline, and a lobster dinner. For information and reservations, call Don Riepe at (718) 474-0896 or e-mail This email address is being protected from spambots. You need JavaScript enabled to view it. . $425 (double-occupancy)
Chincoteague Refuge and Assateague Islands: Birds and Ponies

Thursday, November 10, 9am - Sunday, November 13, 6pm
Guide: Don Riepe
With American Littoral Society
A great natural history weekend on the Virginia coast. See wild ponies, Snow Geese, Bald eagles, migrating hawks, waterfowl, shorebirds and lots more. includes 3 nights lodging at the luxurious Refuge Inn ( heated pool, jacuzzi, sauna, exercise room, observation deck), breakfast, Safari bus tour of back dunes area, 5 guided hikes, evening programs, plus an "all-you-can-eat" oyster & seafood dinner. Contact Don Riepe at (718) 474-0896 or This email address is being protected from spambots. You need JavaScript enabled to view it. for info regarding transportation, itinerary, and reservations. Presented in partnership with American Littoral Society. $395 ( $180 single room supplement)