Overnight Trips
National Destinations
Saturday, February 27: Winter Waterfowl Weekend at Montauk, with Gabriel Willow
Harlequin Duck, copyright Lloyd Spitalnik
Saturday, February 27, 9am - Sunday, February 28, 7pm
Guide: Gabriel Willow
The gatherings of sea ducks around Montauk Point are the largest winter concentrations in New York State; the Christmas bird count on Montauk Point consistently tallies from 125 to 135 species, one of the best totals in the Northeast. Species that come to feed on the Point's rich kelp and mussel beds include common and red-throated loon, common eider, all three scoter species, bufflehead, common goldeneye, great cormorant, and red-breasted merganser. Harlequin duck and king eider also occur here regularly during the winter. Accommodations at Daunt's Albatross in Montauk. Transport by passenger van included. Limited to 12. $300 ($50 single supplement)
Saturday, May 21: Puffins, Warblers, and Lobster Boats - The Enchanting Coast of Maine, with Gabriel Willow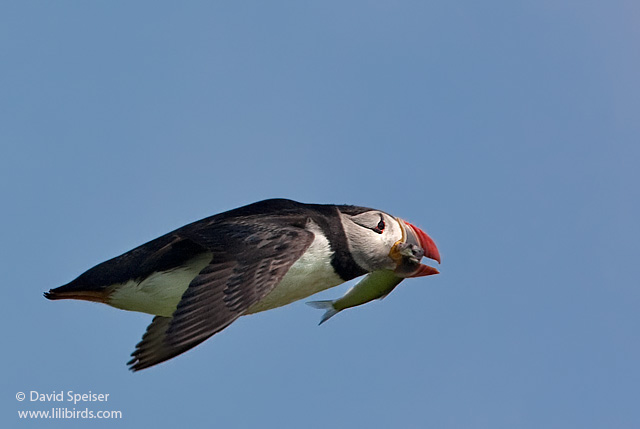 Saturday, May 21-Saturday, May 28
Guide: Gabriel Willow
Come along with NYC Audubon and explore Maine's "Country of the Pointed Firs": land of lighthouses, quaint villages, and lobster pounds... all nestled in a setting of primeval pine forests, bogs, and bucolic islands. Home to some of the East's last true wilderness, Maine hosts populations of Atlantic puffin, bear, moose, shorebirds, and dozens of warbler species. This land of forests and rocky coast has been an inspiration to artists and naturalists for generations.
We'll begin our exploration by spending three days on the mainland coast, visiting the salt marshes and beaches to the south before heading to the beautiful fishing village of Camden. From there we will explore nearby hills, meadows, and marshes in search of elusive rails, upland sandpiper and Nelson's and vesper sparrow. Following our exploration of the mainland, we'll spend four days on enchanting Monhegan Island—a scene of inspiration for artists including Edward Hopper and the Wyeth family. Birders flock here as well: Seeing 30 warbler species in one day is not uncommon, and many rarities appear here. We will stay at the historic Monhegan House Inn, where meals will include a lobster dinner. Finally, we'll travel to a puffin nesting colony. While on the water, we'll keep our eyes open for whales and porpoises. $1,950 ($595 single supplement)
(Transportation to/from Maine not included)
Click here for the complete itinerary